Rooted in the Swedish forests
Lessebo Paper is located in a densely forested area right between large shallow lakes in the inland region of Småland. We have produced paper generation over generation, developing the most climate friendly paper in the world. It is in our nature to care and foster the surroundings for the coming generations. The result of our hard work is a fully biodegradable and recyclable paper, made of 100% TCF pulp. Produced with responsibility for our environment – and the coming generations.
More trees are planted than harvested
All forestry operations are FSC® and/or PEFC™ certified
Zero waste to landfill
The waste we cannot recycle is donated to local producers of biofuel
Energy from renewable sources
The waste energy supplies the houses in Lessebo with district heating
Lessebo Paper Studio
Lessebo Paper Studio is a platform where we together change the perception of what is possible to create out of paper. We have collected some of the most innovative and creative designers, sharing a mutual passion in our favourite material – paper.
Our brands
Welcome to the inspiring and diverse world of climate friendly paper. We have for generations developed our paper qualities and we frequently push the art of making paper beyond the limits.
CO2 per metric ton paper
including scope 1 and scope 2
growth of standing volume in Swedish forests from 1920 (SLU, 2019)
Certificates
Lessebo Paper meets the most stringent environmental requirements and the paper may be used for printed matter marked with the reputable Nordic Ecolabel.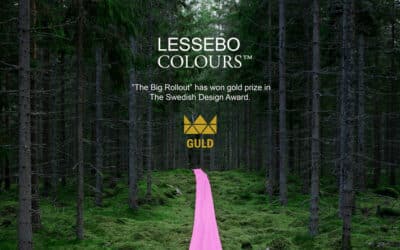 Lessebo Paper wins gold in the Swedish Design Award Lessebo Paper's launch campaign of the new brand Lessebo Colours "The Big Rollout" has won gold in the Swedish Design Award 2023 and received the People's Choice award. In the award-winning launch "The Big Rollout",...
read more
 Join our mailing list!
Sign up to receive email updates with the latest from Lessebo Paper, get inspired from innovative projects and learn more about climate friendly paper production.