Cradle to Cradle Certified

®
Lessebo Paper is the first paper producer in the world to achieve Cradle to Cradle Certified
®

GOLD 
Cradle to Cradle Certified is a globally recognised measure of safe, sustainable products made for the circular economy. To receive certification, the products are assessed for environmental and social performance across five critical sustainability categories, which is the basis for the achievement level of the final certification.
Lessebo Paper is the first paper producer in the world to achieve Cradle to Cradle Certified Gold award for its white range of uncoated, high quality paper, including the full assortment of Lessebo Design® and Scandia 2000®. The paper is produced from totally chlorine free pulp (TCF) and the production has low CO2 emissions. The paper is suitable for printing materials where quality and sustainability are out of importance.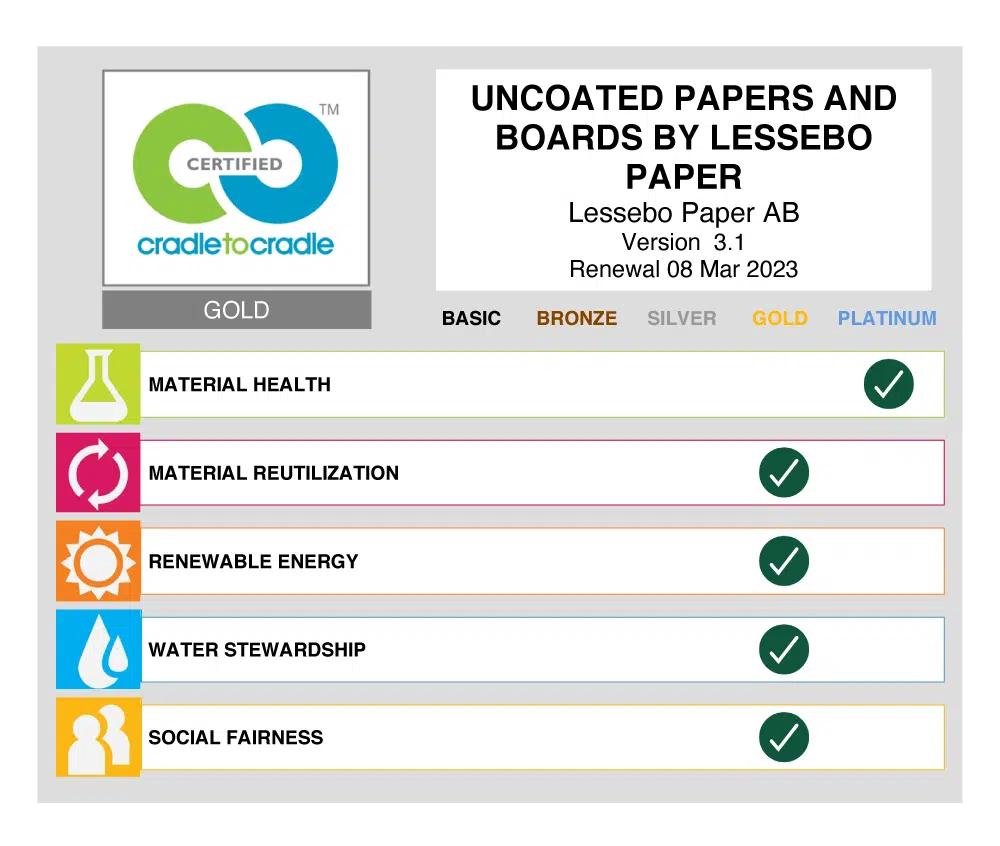 In addition, Lessebo Paper had their white ranges of uncoated paper; Lessebo Design and Scandia 2000 assessed against the criteria of the Material Health category in the Cradle to Cradle Certified Product Standard and was awarded a Platinum level Material Health Certificate by the Cradle to Cradle Products Innovation Institute. The Platinum level represent the highest standard in Cradle to Cradle Certified product design.
"Our process of producing paper is fully transparent and our Lessebo Design® and Scandia 2000® ranges have been tested and analysed, including all raw materials."
Our products have once again been proved to be a leader in sustainability. Being the first paper producer worldwide to receive Cradle to Cradle Certified at Gold level for our uncoated paper products is a big achievement and has been made possible by our focus on sustainability. This is clearly showing that our paper is one of the most climate friendly paper qualities in the world
Cradle to Cradle Certified

®

is a registered trademark of the Cradle to Cradle Products Innovation Institute