Paper artist Michael Gyde shapes sculptures from Lessebo Paper's premium paper
Deep in the heart of northern Sweden's vast forests, one of Brobygrafiska's talented students, Michael Gyde, has crafted an art piece at the intersection of creativity, design, sustainability, and advanced paper technology.
The paper art is made in an effort to remind viewers to dig beyond the obvious and explore deeper layers of meaning and beauty.
Michael Gyde, currently studying at the esteemed graphics education Brobygrafiska, has recently created an artwork titled "Camouflaged 2023". This piece utilises Scandia 2000 White in 150 gsm and Lessebo Colours Pitch Black 9099 in 120 gsm.
Through his art, Gyde encourages viewers to delve beyond surface appearances and explore deeper layers of meaning and beauty. His artistic expression serves as a critique of contemporary society, which often prioritises a throwaway culture.
In this culture, everything, including human beings, seems disposable, Micheal Gyde argues. Deep connections are sacrificed in favor of short-term goals and immediate outcomes. Unique talents and the art of craftsmanship are frequently neglected and forgotten.
"In a world that shouts, we can be bound to blend into the background if we don't stand out. Our beauty and talent are camouflaged by incessant noise, endless filters, and relentless competition for attention. But if we take the time to explore each other, look deeper, and listen with passion, we can discover a depth of infinite artistry and allure," explains Gyde, highlighting the thoughtful intention behind his sculpture.
Michael Gyde's carefully curated paper art prompts us to contemplate sustainable choices and the importance of withdrawing from a fast-paced world incessantly demanding attention. Instead, we should focus on fostering harmonious interpersonal relationships and personal growth, which can yield greater long-term value. Just as consciously crafted designs made with care often possess a higher emotional value than thoughtlessly mass-produced items.
We at Lessebo Paper believe in the significance of providing creative, innovative, and sustainable design. Each deliberate design choice represents a commitment to our surroundings and those within, an investment in generations to come.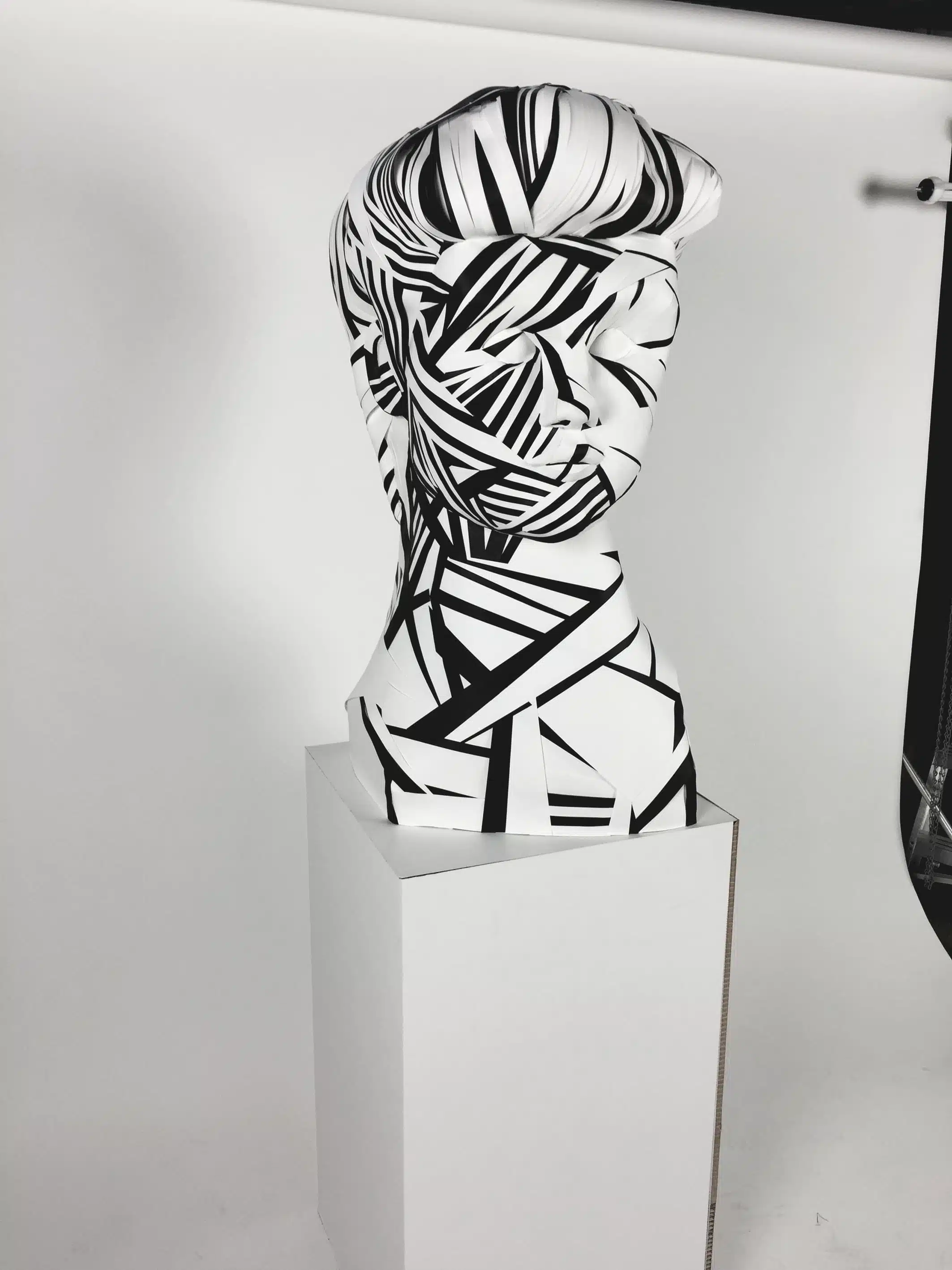 Why did you decide to use your paper for this artwork? How did the selection process unfold, and what thoughts went into choosing the paper or materials for the piece?
I wanted premium quality uncoated paper, with a GSM flexible enough to shape around the contour of the sculpture without creasing. The paper is used in its natural state without any ink or varnish applied, so I needed as pure and even a finish as possible. The Lessebo Paper stock was superior to any other so became the only choice.
Our audience is particularly interested in the manufacturing process. Can you provide more details about how you created these pieces, particularly focusing on the artistic process?
The message came first. It's something I have felt passionate about for a long time. I have always wanted to try sculpting and the medium fit the message perfectly. I love the pureness of paper, the blank sheet of white paper is traditionally where all ideas are born so I had my concept, material. I devised a method of using Re-Board to create a structure glued and sculpted with craft knives and layered in a skin of paper.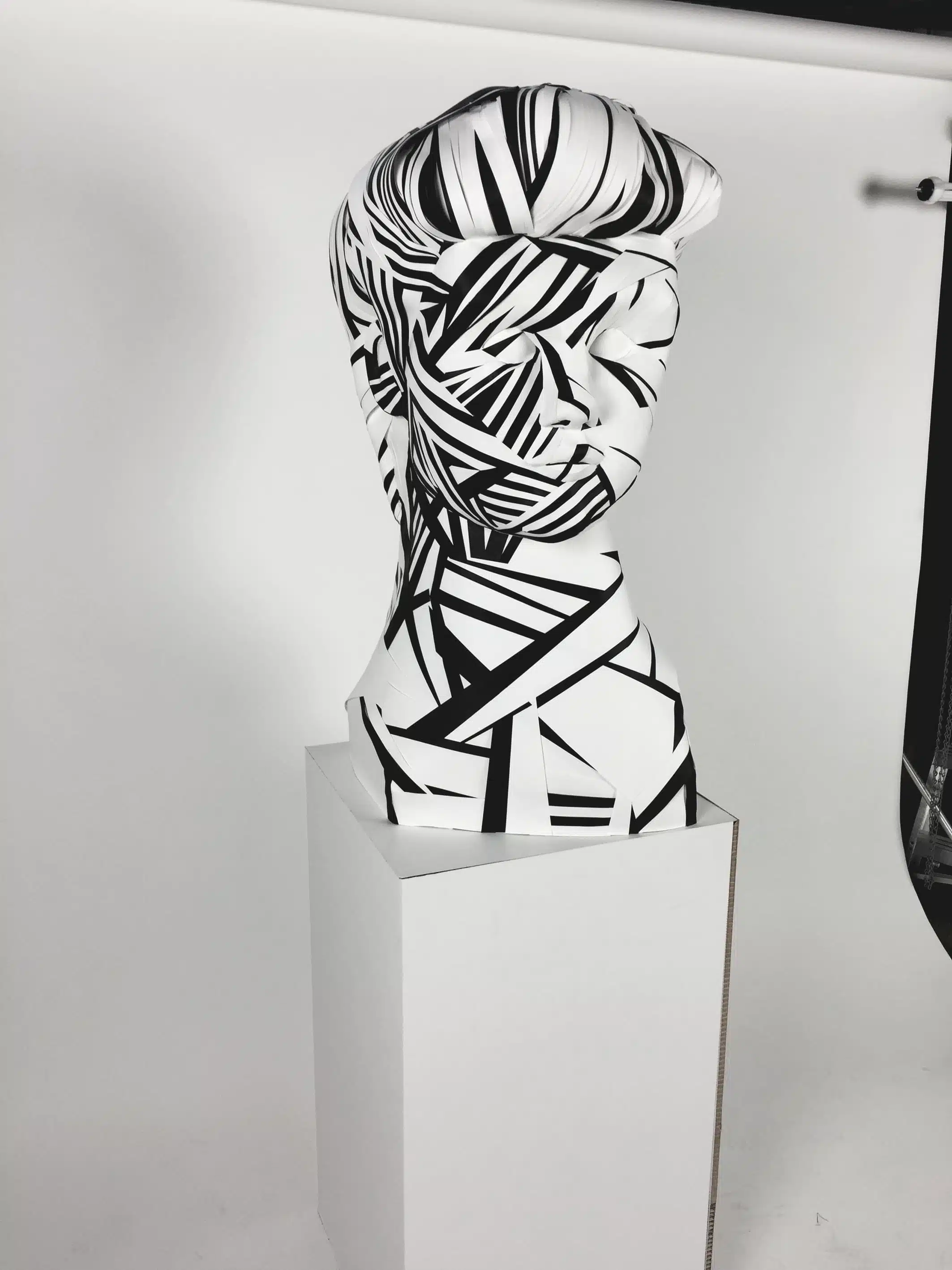 The images of the artwork are very intriguing. How were you able to craft this beautiful bust? Can you describe it in a way that helps the reader understand that it's a physical piece of art, handcrafted?
By creating a physical sculpture, the art, and its message have longevity that a digital creation wouldn't. The experience of viewing a sculpture is unique, we take time to look at the contours and texture in a way we don't with computer-generated artwork. This affords us the time to really absorb the meaning. Images of the artwork can then be photographed, brought into the digital space, and experimented with to create a fresh experience.
Was it the quality of the paper that prompted you to choose it, or were there environmental considerations? Was it a combination of factors?
The quality of the paper and the Lessebo heritage were huge considerations in choosing the material for the project. Art is aesthetic, and the Lessebo Paper paper is beautiful in colour and texture. But as important as the material is, it must have integrity and come from a responsible source too.
Was it the quality of the paper that prompted you to choose it, or were there environmental considerations? Was it a combination of factors?
We live in a world that is becoming increasingly polarised. We have so much variety, we are bombarded with so many messages, that we are often subject to black-and-white thinking. These thought patterns cause us to reject viewpoints, ideas, and increasingly each other. The aim of the work is to try and challenge some of these decision-making processes, to give us more time to evaluate, study and explore.